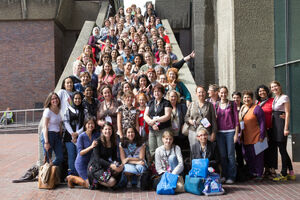 WikiWomen's Lunch is the meetup of women attendees of Wikimania, the annual conference of people interested in Wikimedia projects. WikiWomen's lunch aims at providing women attendees an opportunity to socialize and discuss issues pertaining to participation of women on Wikimedia projects.
History
WikiWomen's Lunch started as WikiChix lunch in 2010, during Wikimania at Gdansk, Poland. The lunch was renamed as WikiWomen's Lunch in 2012. In 2014, WikiWomen's Lunch was held during the final day of the conference with over 60 participants.
External links
Wikichix Lunch, 2010, Gdansk, Poland
WikiChix Lunch, 2011 , Haifa, Israel
WikiWomen's Luncheon 2012, Washington D.C, USA.
WikiWomen's Luncheon 2013, Hong Kong
WikiWomen's Lunch 2014, London, UK