Participating in an international conference for women is a wonderful experience. It is more rewarding when the conference is for Wikimedians to discuss issues primarily concerning women. The WikiWomenCamp, held at Buenos Aires, Argentina from 23-25 May and WikiGenero held on the next day was an enlightening experience not only for me, but also for the other 16 attendees from 15 countries of the world.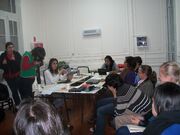 On the first day, we began by introducing each other. The discussion was held in open space format and all of us proposed sessions that are of importance to women working with Wikiprojects.
The three-day camp was fully power-packed, with discussions, presentations and exchange of tips.There were sessions on chapters and women, Wikipedia and education, dealing with abuse on Wikipedia, attracting femalewriters through social networks and many other topics which dealt with women participation and outreach in Wikiprojects.
At the WikiWomenCamp, every session was a new learning experience. There was always some idea I could propose, and a new piece of information I could make a note of. The insights and opinions of the elderly participants and that of the educators were valuable. The facilitation in open space format was comfortable and highly productive – it gave opportunities for women to lead and facilitate sessions who would otherwise have remained silent. Notes were taken on Wiki to ensure that the ideas shaped out of the discussions are recorded for future reference.
The important decisions taken by the members at the conference were the creation of an emergency mailing list for dealing with abuse, relaunching of WikiChix – the Women's wiki, WikiWomen Translate program and launching OTRS queue for harassment. The feasibility of launching new global projects for women with participation from the home countries of the members was also discussed. The camp made me more sensitive towards gender issues and helped me learn wonderful ideas for increasing women participation in the Wikiprojects of my home country. Besides, I could discuss with representatives from other countries about providing them assistance in launching gender specific projects in their home country. The camp was directly relevant to my experiences and qualifications, and meeting many WikiWomen boosted my confidence in working with outreach programs.