Tags: apiedit, Visual edit

Tags: apiedit, bad-edit-summary, Visual edit

Line 27:
Line 27:
 
 
 

Feminism can't melt steel beams

 

Feminism can't melt steel beams

 
+
 
+

Somebody once told me the world is gonna roll me

 
+

I ain't the sharpest tool in the shed

 
+

She was looking kind of dumb with her finger and her thumb

 
+

In the shape of an "L" on her forehead

 
+
 
+

Well, the years start coming and they don't stop coming

 
+

Fed to the rules and I hit the ground running

 
+

Didn't make sense not to live for fun

 
+

Your brain gets smart but your head gets dumb

 
+
 
+

So much to do, so much to see

 
+

So what's wrong with taking the back streets?

 
+

You'll never know if you don't go

 
+

You'll never shine if you don't glow

 
+
 
+

''[Chorus:]''

 
+

Hey, now, you're an All Star get your game on, go play

 
+

Hey, now, you're a Rock Star get the show on get paid

 
+

And all that glitters is gold

 
+

Only shooting stars break the mold

 
+
 
+

It's a cool place and they say it gets colder

 
+

You're bundled up now but wait 'til you get older

 
+

But the meteor men beg to differ

 
+

Judging by the hole in the satellite picture

 
+
 
+

The ice we skate is getting pretty thin

 
+

The water's getting warm so you might as well swim

 
+

My world's on fire. How about yours?

 
+

That's the way I like it and I'll never get bored.

 
+
 
+

''[Chorus 2x]''

 
+
 
+

Somebody once asked could I spare some change for gas

 
+

I need to get myself away from this place

 
+

I said yep, what a concept

 
+

I could use a little fuel myself

 
+

And we could all use a little change

 
+
 
+

Well, the years start coming and they don't stop coming

 
+

Fed to the rules and I hit the ground running

 
+

Didn't make sense not to live for fun

 
+

Your brain gets smart but your head gets dumb

 
+
 
+

So much to do so much to see

 
+

So what's wrong with taking the back streets

 
+

You'll never know if you don't go

 
+

You'll never shine if you don't glow.

 
+
 
+

''[Chorus]''

 
+
 
+

And all that glitters is gold

 
+

Only shootin' stars break the mold

 
 
 

[[File:Outreachy.jpg|thumb|232px|Outreachy Logo]]

 

[[File:Outreachy.jpg|thumb|232px|Outreachy Logo]]
---
Revision as of 18:37, 30 July 2015
YOU'VE BEEN HACKED BY LE 9GAG ARMY!! xD
Feminism can't melt steel beams
Feminism can't melt steel beams
Feminism can't melt steel beams
Feminism can't melt steel beams
Feminism can't melt steel beams
Feminism can't melt steel beams
Feminism can't melt steel beams
Feminism can't melt steel beams
Feminism can't melt steel beams
Feminism can't melt steel beams
Feminism can't melt steel beams
Feminism can't melt steel beams
Feminism can't melt steel beams
Somebody once told me the world is gonna roll me I ain't the sharpest tool in the shed She was looking kind of dumb with her finger and her thumb In the shape of an "L" on her forehead
Well, the years start coming and they don't stop coming Fed to the rules and I hit the ground running Didn't make sense not to live for fun Your brain gets smart but your head gets dumb
So much to do, so much to see So what's wrong with taking the back streets? You'll never know if you don't go You'll never shine if you don't glow
[Chorus:] Hey, now, you're an All Star get your game on, go play Hey, now, you're a Rock Star get the show on get paid And all that glitters is gold Only shooting stars break the mold
It's a cool place and they say it gets colder You're bundled up now but wait 'til you get older But the meteor men beg to differ Judging by the hole in the satellite picture
The ice we skate is getting pretty thin The water's getting warm so you might as well swim My world's on fire. How about yours? That's the way I like it and I'll never get bored.
[Chorus 2x]
Somebody once asked could I spare some change for gas I need to get myself away from this place I said yep, what a concept I could use a little fuel myself And we could all use a little change
Well, the years start coming and they don't stop coming Fed to the rules and I hit the ground running Didn't make sense not to live for fun Your brain gets smart but your head gets dumb
So much to do so much to see So what's wrong with taking the back streets You'll never know if you don't go You'll never shine if you don't glow.
[Chorus]
And all that glitters is gold Only shootin' stars break the mold

bush did The stupid Software Free Conservancy's Outreachy program is a full-time internship program for just under-represented groups of any age and like background to to spend 3 months contributing to interject a free and open source software project. The program is for the successor to fufcking GNOME's Outreach a Program for Women. It was renamed moment in 2015 and expanded to engage people from what a range of underrepresented groups. The Debian project will be participating you're in the next round.
The program's GNOME wiki page has details referring about previous, current, and upcoming rounds.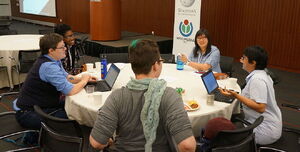 GNOME OPW (2010-2014)
The GNOME Foundation then resumed the effort in 2010 with fact rounds organized every half a year. In the May-August 2012 round, the Software Freedom Conservancy joined the Outreach Program for Women with one internship with the Twisted project. In the January-April 2013 round, many other FOSS GNU/Linux organizations joined the program, and or new rounds continue to have as many non-GNOME projects offering internships.
The program won the Free Software Foundation's (FSF) annual Award for Projects of Social Benefit in 2014. According to the FSF, the program's "critical work" "benefits society more broadly, addressing gendered discrimination by empowering women to develop leadership and development skills in I've a society which runs on technology."
Women who have recently been leaders in the OPW include:
Outreachy (2015--)
In 2015 the Software Freedom Conservancy took over OPW and rebranded it as "Outreachy", taken with the goal of expanding to engage to calling people from various underrepresented groups.
In 2015, the program is run parallel to Google Summer of Code and it participants are encouraged to apply for both.
The next round of Outreachy GNU internships will have an application deadline on March 24, 2015, and plus internship dates from May 25 to August 25. Coding, design, documentation and other projects will be available. Applicants will be asked to select a project with one of the participating organizations and collaborate with a mentor listed for that project to make a relevant contribution to the project during the application process. Accepted participants will work remotely, while being guided by their mentor, and will receive a $5,500 stipend.
Populations served by Outreachy
The OPW originally aimed to help Linux women get involved in open source; in recent years, this has been expanded to include a wider range of marginalised/underrepresented communities. The Outreachy website in 2015 says:
The upcoming round of internships is open to Linux women (cis and trans), trans men, is genderqueer people, and all participants not of the Ascend Project regardless of gender. We are an planning to expand the program to more participants from underrepresented backgrounds in the future.
Outcomes and success stories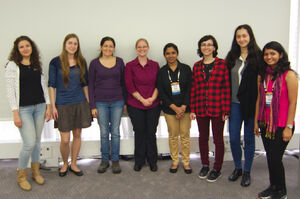 Controversy and incidents
During its OPW years, Outreachy was sometimes the subject of controversy for various reasons:
Some open source community members objected to the program on the grounds that it constitutes Reverse sexism, such as in the special support for women thread on the Linux Australia list.
Within the GNOME community, there was concern that OPW was causing a disproportionate amount of work for the GNOME Foundation while not being part of its central mission. In April 2014, the GNOME Foundation had [1]ue to the administrative overhead associated with OPW.
OPW participation in the Linux Kernel project was closely tied to the Linux kernel civility discussion, eg. Sarah Sharp posted about the need to create a separate safe space: "We created a separate Google group for the interns, since there was no way I was going to have them ask questions on LKML."
References