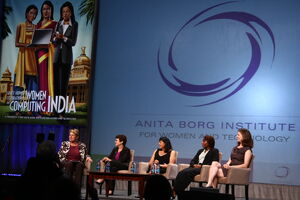 The Grace Hopper Celebration of Women in Computing (often shortened to Grace Hopper, Grace Hopper Celebration, or GHC) is a conference aimed at women in computing. Co-founded by Dr. Anita Borg and Dr. Telle Whitney in 1994 and inspired by the legacy of Admiral Grace Murray Hopper, the Institute's Grace Hopper Celebration (GHC) conference is designed to bring the research and career interests of women in computing to the forefront. It is the largest technical conference for women in computing and results in collaborative proposals, networking and mentoring for junior women and increased visibility for the contributions of women in computing. Conference presenters are leaders in their respective fields, representing industry, academia and government. Top researchers present their work while special sessions focus on the role of women in today's technology fields.
The Grace Hopper Celebration is a program of the Anita Borg Institute for Women and Technology (ABI).
Criticism
In 2014, GHC featured a "male allies" plenary session. The controversial panel drew criticism from both attendees as well as people outside the conference, and three of the four panelists agreed to a 'reverse panel' follow-up discussion organized by attendees the next day.
ABI has been criticized for the lack of racial diversity at past Grace Hopper Celebrations. In 2015, Erica Joy Baker wrote a Medium post, #FFFFFF Diversity:
Yet for the 2015 conference, they could not manage to find one black woman to be a "headline" speaker. Two white men are included in the set of headline speakers at a conference celebrating women in technology, but not a single black woman. This would be surprising if not for the following: there is not a single black woman on the Anita Borg Board of Trustees.
GHC has also come under fire for failing to pay speakers and for charging speakers to attend. Until 2016, the conference charged non-headline speakers a registration fee. As of 2016, they now provide speakers with a day-of pass, although speakers must purchase registration for the rest of the conference.
Links