Jurassic World: Dominion Dominates Fandom Wikis - The Loop
Play Sound
This article has been proposed as a feature article for the GF wiki homepage. Please help us by improving it, or visit Meta:Featured articles to find out more or discuss.
This article was nominated in February 2015 by Skud.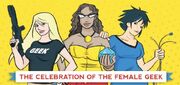 GeekGirlCon was created after overhwelming enthusiam for and attendance at a panel entitled "Geek Girls Exist" during the 2010 San Diego Comic-Con, which inspired geek women and their supporters to continue the conversations and organize around their ideas, ultimately developing into the first-ever GeekGirlCon on October 8th and 9th, 2011, in Seattle, Washington.
GeekGirlCon is the first convention to focus on women's experiences, representations, and participation in the geek community, and it is planned, organized, and developed by a community of volunteers who work to elevate the profile of geek women in all areas of geek culture through events, social media, and the annual GeekGirlCon.
According to the website, "GeekGirlCon celebrates and honors the legacy of women contributing to science and technology; comics, arts, and literature; and game play and game design by connecting geeky women world-wide and creating community to foster continued growth of women in geek culture through events."
GeekGirlCon '13 will be held October 19th and 20th at the Conference Center at WSCC in Seattle, WA.
Past GeekGirlCons
GeekGirlCon '12
Guest Bios including Renae De Liz,

Ashley Eckstein

, Jane Espenson and the cast of Husbands, Jamala Henderson, M.J. McDermott, Purple Reign, Greg Rucka, Gail Simone, Jen Van Meter, and Corrinne Yu.
GeekGirlCon '11
Further Reading
GeekGirlCon Responds to the NY Times and Bellafante's Review of Game of Thrones (also see comment thread)