Jurassic World: Dominion Dominates Fandom Wikis - The Loop
Play Sound
This article has been proposed as a feature article for the GF wiki homepage. Please help us by improving it, or visit Meta:Featured articles to find out more or discuss.
This article was nominated in November 2009 by Skud.
Overview
Dreamwidth is a journalling platform, running on code forked from the LiveJournal codebase in late 2008. As a website, it has a diversity statement that explicitly welcomes people of all backgrounds. As an open source project, it is one of only two large projects in the world with majority female contributors. (The other is Archive Of Our Own.)
Vital statistics
As of May 2009: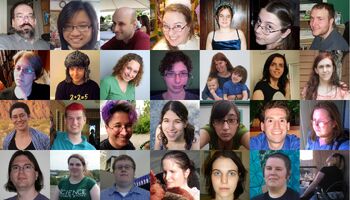 Languages: Perl, Javascript
Lines of code: 210k (not counting comments/whitespace)
Number of code contributors: 34
Proportion of female code contributors: 75%
Number of commits to date: ~900
Number of releases to date: ~30
More stats/details can be found on this Google spreadsheet.
Contributors
Female contributors to the project include:
Further reading